Ballparks of Major League Baseball Poster

Miller Park Desktop PhotoMint
Miller Park Aerial Poster

Framed or Unframed




Brewers Infield Dirt Drink Coasters -

(Set of 4)

Brewers 8x10 Game Used Dirt Plaque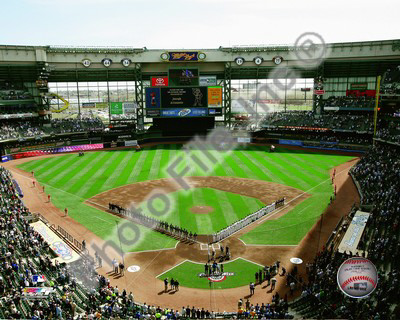 Miller Park Poster

Sizes Vary, Framed or Unframed

Milwaukee Brewers Ticket Frame


Miller Park Medallion and Infield Dirt Coin
Limited to 5,000


Milwaukee Brewers First Pitch at Miller Park Poster
---
Other Ballpark Items
COUNTY STADIUM

MILWAUKEE, WI

Home of two baseball teams during its tenure, County Stadium was the first stadium built in the second half of the 20th century. A new stadium for the Milwaukee area was first discussed in 1909, but talks did not intensify until 40 years later. In 1949, several sites were proposed as possible sites for a stadium. The site chosen was a garbage dump and construction of the stadium began October 19, 1950. The ballpark was built of steel and concrete, and would house baseball, football and other events. It was constructed so if Milwaukee received a professional baseball team, the stadium could be expanded. Construction on the stadium was slow because of labor strikes and shortages of materials. Two MLB teams became interested in moving to the new stadium, the St. Louis Browns and the Boston Braves. The Boston Braves received permission and moved to Milwaukee for the 1953 season.

Construction was finally completed and the ballpark was named County Stadium. The Boston Braves were renamed the Milwaukee Braves and opening day for the team at County Stadium was on April 14, 1953. County Stadium had a capacity of 28,111 that consisted of a double decked grandstand down the first and third base lines, a lower level of seating that extended to the foul poles and bleachers were in various parts of the outfield. The upper grandstand consisted of wooden bleachers. A state of the art Miller High scoreboard was located in right field with a Longines clock on top. The Green Bay Packers (NFL) began playing at County Stadium on September 27, 1953. In order for the baseball diamond to become a football gridiron, the bleachers behind the left field wall were moved into the playing area in left field.

With soaring attendance at County Stadium, the grandstands that were single decked down the foul lines were double decked by the 1954 season, increasing the capacity to 43,340. Trees were planted in the batters backdrop in centerfield and a picnic area known as the Braves Reservation was added between the outfield bleachers in 1960. By 1959 attendance at County Stadium began to drop. In 1964 the Braves began discussing moving to Atlanta and succeeded. Their last game at County Stadium was on September 12, 1965. Without baseball, the Packers were the only main tenant and they only played half of their games at County Stadium. A group including Bud Selig began trying to get MLB to expand to Milwaukee. They were unsuccessful and after five years without baseball, Bud Selig bought the Seattle Pilots and moved them to Milwaukee for the 1970 season.

After the 1970 season, County Stadium underwent few changes. County Stadium became known for its mascot Bernie the Brewer, his beer barrel, chalet and slide that was added in 1973 behind the bleachers in centerfield. In 1974 the press box was remodeled and a new scoreboard was installed. During the early 1990s the Brewers began lobbying for a new ballpark. Construction for their new ballpark, Miller Park began in 1996. Fans visiting County Stadium in the last years of its existence saw Miller Park rise beyond the bleachers in the outfield. Other than being entertained by Bernie the Brewer, racing sausage figures ran around the stadium during the game. The last year for County Stadium was scheduled for 1999 but a crane accident at Miller Park did not allow construction to be completed by the 2000 season. The final game at County Stadium was on September 28, 2000. County Stadium was demolished the following winter.

-Tenants: Milwaukee Braves/Brewers (MLB), Green Bay Packers (NFL)
-Capacity: 28,111 (original), 53,192 (final)
-Surface: Grass
-Cost: $5 Million
-Opened: April 24, 1956
-Closed: September 28, 2000
-Demolished: February 2001
-Dimensions: 320-L, 404-C, 320-R (original), 315-L, 402-C, 315-R (final)
-Architect: Osborn Engineering


Demolition of County Stadium



SUBMIT YOUR PICTURES! Have pictures of this stadium? If you have a digital version submit using the form below. If you have negatives or photo prints email us at pictures @ ballparksofbaseball.com! We will add your photos here!


Opening Day at County Stadium Panoramic Photo

Last Pitch at County Stadium Poster

All Star Game: 1955 & '75

World Series: 1957, '58, '82

Warren Spahn's 300th career win on August 11, 1931.

MVP Robin Yount in 1982.

Hank Aaron's final homerun, 755 on July 20, 1976.

Cy Young winner Rollie Fingers in 1981.

Sammy Sosa and Mark McGwire's 64th and 65th homeruns in 1998.