FORBES FIELD MERCHANDISE

Ballparks of Major League Baseball Poster


Forbes Field Stadium Baseball


Forbes Field Pittsburgh Pirates 3D Ballpark Replica


"Forbes Autumn Classic" Pittsburgh Pirates Print


Forbes Field Pittsburgh Pirates Seat


Forbes Field Pittsburgh Pirates Poster

Forbes Field Pittsburgh Pirates Poster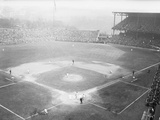 Forbes Field Pittsburgh Pirates Poster


PNC Park Aerial Poster


PNC Park Infield Dirt Panoramic Photo Mint


PNC Park City Print
---
Other Ballpark Items
FORBES FIELD

PITTSBURGH, PA

It's a sunny afternoon in late Summer 1909 and you're on a ten minute trolley ride from downtown Pittsburgh to the neighborhood of Oakland. Where are you headed? To the Pirates new ballpark, Forbes Field, as the team is in the midst of winning 110 games and going onto the 1909 World Series. It replaced the 16,000 seat wooden Exposition Park along the Allegheny River. Businessman Barney Dreyfus bought the Pirates in 1900 and within several years began looking for site to construct a ballpark to replace the small wooden Exposition Park as it flooded often. Business tycoon Andrew Carnegie helped Dreyfus purchase seven acres of the Mary Schenley estate three miles from downtown Pittsburgh. On March 1, 1909 construction of one of the first steel and concrete ballparks began. Within four months the ballpark was completed and named after General John Forbes, a French and Indian War hero.

On June 30,1909, with future Hall of Fame member Honus Wagner at shortstop, the the Pirates hosted the Chicago Cubs in the first game at Forbes Field in front of 30,388 fans. Forbes Field helped usher in a new wave of ballparks featuring elements that had never been seen in ballparks before. A three tier grandstand extended from behind homeplate down both the first and third base lines. Forbes Field became one of the first ballparks to have luxury suites that were located on the third tier of the grandstand. It was the first to have ramps to take people to their seats and elevators to take patrons to the third level. One level of seating extended to both the left and right field foul poles and bleachers were located in left and center fields. The scoreboard was part of the outfield wall in left field. Original dimensions at Forbes Field were 360 ft. (left), 462 ft. (center), and 376 ft. (right). Forbes Field had one of the grandest exteriors of any ballpark ever built. The facade featured a buff colored terra cotta with steel painted light green and red tinted slate roof.

Throughout the early 1920s Forbes Field became inadequate as fans had to stand on the field in order to watch the Pirates play. In 1925 a $750,000 expansion was completed increasing the seating capacity to 35,000. The double decked grandstand was extended down the first base line and around into right field. A press box that became known as the "Crows Nest" was constructed in 1938 on the top of the grandstand roof behind homeplate. Following other teams in baseball, the first night game played at Forbes Field was on June 4, 1940. Originally the bullpens were located in foul territory down the first and third base lines. After the Pirates acquired slugger Hank Greenberg they moved the left field in 30 feet to 330 feet after World War II. This area became known as Greenberg Gardens and later Kiner's Korner when Ralph Kiner became part of the Pirates. Forbes Field featured an ivy covered brick wall in left and left-center field. The main hand operated scoreboard featured a Longines clock was located in left field. The cages of three light towers in the outfield were in play making for some interesting plays as many triples and inside the park homeruns were hit at Forbes Field. It was known as one of the hardest ballparks to hit a homerun at.

By the late 1950s and early 1960s Forbes Field was beginning to show its age and becoming obsolete. Located next to the campus of the University of Pittsburgh, the university purchased the ballpark in November 1958 for $2 million to expand its campus. This led to the eventual demise of Forbes Field and the City of Pittsburgh built a new multipurpose stadium, Three Rivers Stadium, for the Pirates and the Pittsburgh Steelers (NFL). The final game at Forbes Field was on June 28, 1970 as the Pirates played a doubleheader against the Cubs, who they had played the first game ever at Forbes Field in 1909. Following the final out fans scrambled onto the field for souvenirs. Forbes Field was damaged by two fires before being demolished in July 1971. Relics from the ballpark, including stadium seats were sold for $5 each. Not only was Forbes Field the home of the Pirates, but the Steelers for three decades, the Pitt Panthers (NCAA) from 1909 to 1924 and numerous other sporting and entertaining events. The location of Forbes Field is now the site of the University of Pittsburgh library and dorms. Homeplate remains on display in its final location of part of the original brick left field wall remains standing.

FACTS & FIGURES

-Tenant: Pittsburgh Pirates
-Capacity: 25,000 (original), 35,000 (final)
-Surface: Grass
-Cost: $1 Million
-Opened: June 30, 1909
-Closed: June 28, 1970
-Demolished: July 1971
-Dimensions: 360-L, 422-C, 376-R (original) 365-L, 400-C, 329-R (final)
-Architect: Osborn Engineering

FORBES FIELD VIDEO


The Lost Ballparks


Forbes Field Entrance
FORBES FIELD PICTURES

SUBMIT YOUR PICTURES! Have pictures of this stadium? If you have a digital version submit using the form below. If you have negatives or photo prints email us at pictures @ ballparksofbaseball.com! We will add your photos here!

PITTSBURGH PIRATES MERCHANDISE

MEMORABLE MOMENTS
AT FORBES FIELD

All Star Game: 1944 & '59

World Series: 1909, '25, '27, '60

Last tripleheader vs. the Reds on October 2, 1920.

No no-hitters ever pitched here.

Home of greats Honus Wagner and Raplh Kiner.

Babe Ruth's last homerun, his 714th on May 25, 1935, a towering shot that cleared the 86 foot high roof in right field. .

Four batting championships and 10 Gold Gloves by Roberto Clemente.